Ficus Retusa Bonsai Tree with Curved Shaped Trunk (ficus retusa)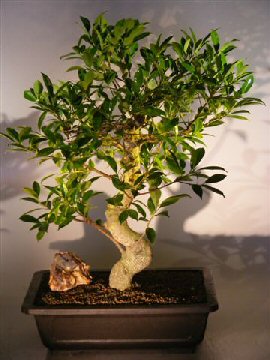 Sale Price: $295.00

From Bonsai Boy of NY
View User Comments
Ficus Retusa Bonsai Tree with Curved Shaped Trunk (ficus retusa)
Also known as Banyan Fig and Taiwan Ficus. The Retusa has small, dark green leaves which alternate up the stem and which are more oval than the Benjamina. Grey to reddish bark dotted with small, horizontal flecks, similar to tiger-like markings. Has a heavy and tiered branching which give the appearance of great age. The Retusa is among the most tolerant, versatile and trouble-free bonsai trees for indoor use.
You may also be interested in these related Bonsai Trees and supplies:

Ficus Root Over Rock Bonsai Tree (ficus retusa)
- Sale Price: $79.95
Our unique bonsai features exposed roots growing over a large textured rock and down into the soil. This impressive broad leaf, trouble-free evergreen is recommended for indoors and is very easy to maintain.

Neem Oil Organic Pest Control Concentrate 2 Ounces
- Sale Price: $12.95
The Neem tree is considered to be one of the most promising trees of the 21st century. It has great potential in the fields of pest management, environmental protection and medicine. Used widely as a bio-pesticide for organic farming, as it repels a wide variety of pests, including the mealy bug, aphids, ants and mosquitoes. Use as a repellent and larvacide. Neem oil also controls black spot, powdery mildew and fungus. Dilute at the rate of 4 teaspoons per gallon of water. Adding a surfactant, such as liquid diswashing soap, will enhance its effectiveness. Great for all bonsai trees and household plants.

Ceramic Bonsai Pot Green Oval 14.5x11.0x3.5
- Sale Price: $29.95
Imported glazed ceramic pot

Juniper Bonsai Tree - Trained (juniper procumbens nana)
- Sale Price: $89.95
This dwarf Juniper from Japan is the most popular evergreen in the U.S. When we think of a traditional bonsai and what it should look like we think of a "Juniper Procumbens Nana". They are very hardy, long-lived and tolerate many adverse conditions. Trained style.

Mist Bottle
- Sale Price: $5.95
(12 oz) Use to mist trees when indoors in order to increase the level of humidity.
User Comments:
There are currently 0 comments.