Ficus Retusa Bonsai Tree with Curved Shaped Trunk (ficus retusa)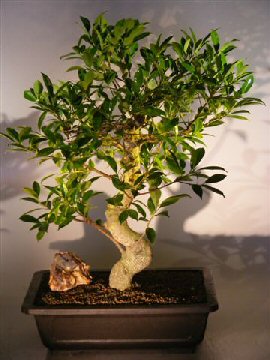 Sale Price: $295.00

From Bonsai Boy of NY
View User Comments
Ficus Retusa Bonsai Tree with Curved Shaped Trunk (ficus retusa)
Also known as Banyan Fig and Taiwan Ficus. The Retusa has small, dark green leaves which alternate up the stem and which are more oval than the Benjamina. Grey to reddish bark dotted with small, horizontal flecks, similar to tiger-like markings. Has a heavy and tiered branching which give the appearance of great age. The Retusa is among the most tolerant, versatile and trouble-free bonsai trees for indoor use.
You may also be interested in these related Bonsai Trees and supplies:

Liquid Chelated Iron 8 oz. concentrate
- Sale Price: $16.95
Liquid chelated iron concentrate. Cures and prevents iron deficiencies in the soil while reversing or reducing the pale green or yellow discoloration associated with chlorosis. Provides iron in a form that is immediately available to vegetation, remaining in the soil for extended feedings. Our liquid chelated iron is economical and safe. Dilute 1/2 teaspoon per quart of water and apply monthly.

Ponytail Palm - Large (Beaucamea Recurvata)
- Sale Price: $79.95
The most striking feature of the Ponytail Palm is the swollen base of the trunk. The texture of the trunk looks and feels scaly like the foot of an elephant and is also known as Elephants Foot. The extraordinary thickening of the trunk serves as a water reservoir against dry spells, allowing the tree to go up to four (4) weeks without water and causing no ill effects. Excellent in low or higher lighting conditions. The Ponytail is an excellent choice for home, office or anywhere.

Hawaiian Umbrella Bonsai Tree - Banyan Style plus Three (3) Tree Forest Group (arboricola schefflera)
- Sale Price: $160.00
This is the tree that we recommend if you are inexperienced with bonsai or you do not have a green thumb. In our opinion it is one of the easiest bonsai trees to care for and is a very beautiful "trouble-free" evergreen. If you don't know which tree to purchase as a gift for someone, this is the tree to select. This versatile tree is great for home, office, dorm or anywhere and does well in low to high lighting conditions. Our tree features tiny umbrella shaped leaves forming a dense green canopy. Very popular and easy indoor care. Our Hawaiian Umbrella bonsai tree with banyan roots is truly a work of art by mother nature. Anyone would be proud to own this impressive conversation piece.

Ceramic Bonsai Pot - Oval 6.125 x 5.0 x 2.125
- Sale Price: $7.25
Imported ceramic bonsai pot

Miniature Chic Figurine Light Blue
- Sale Price: $9.95
Miniature Chic Figurine
User Comments:
There are currently 0 comments.