Ficus Retusa Bonsai Tree with Banyan Roots (ficus retusa)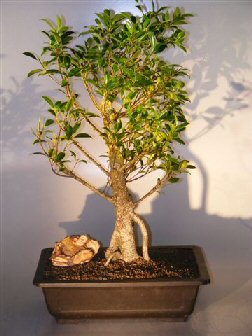 Sale Price: $250.00

From Bonsai Boy of NY
View User Comments
Ficus Retusa Bonsai Tree with Banyan Roots (ficus retusa)
Also known as Banyan Fig. The Retusa has small, dark green leaves which are more oval than the Benjamina. Grey to reddish bark dotted with small horizontal flecks, similar to tiger-like markings. Has a heavy trunk, tiered layered style branches and extensive banyan roots. The Retusa is among the most tolerant, versatile and trouble-free bonsai trees for indoor use.
You may also be interested in these related Bonsai Trees and supplies:

White Orchid Select White Phalaenopsis
- Sale Price: $49.95
The single stem Phalaenopsis is perhaps the most popular of all orchids. It's beauty and elegance is unsurpassed and it's blooms last for up to 2 months or more. Our select orchid comes with up to 6 blooms. Sending orchids is possibly the most thoughtful way to brighten someone's day. Orchids are exotic and many people are honored to receive them. We include the name of the orchid and easy care instructions so the orchid will be appreciated for a very long time. This white Phalaenopsis is sure to be enjoyed by anyone who receives it. This is the perfect indoor flowering orchid for the beginner. Arrives in flower and bud.

Ceramic Bonsai Pot - Rectangle 12.0 x 9.5 x 3.375
- Sale Price: $30.00
Imported ceramic bonsai pot

Professional Bonsai Soil - 2 lbs. (1 Qt.)
- Sale Price: $6.95
Those who practice the fine art of bonsai have known for years the very special qualities that professional bonsai soil imparts to soil mixes. Its unique properties help provide free passage of air and water to root systems while significantly reducing soil compaction. This unique bonsai soil is produced by expanding and vitrifying selected shale in a rotary kiln at temperatures in excess of 2000 degrees F. This process makes the soil sterile and environmentally inert. It is a natural non-toxic, highly absorptive ceramic granule with a generally neutral PH. It is dimensionally stable and will not degrade like other amending products. There is no need for it to be re-applied year after year. A good bonsai soil profile is approximately 25% water, 25% air and 50% solid particulate matter. However, when soils are compacted, an imbalance occurs. Solid particles are pressed together, and water and air are squeezed out. With less pore space, soils become too dense for the movement of air, water and nutrients, and the favorable environment for the beneficial microbial activity necessary in a healthy growing medium, is lost. Our professional bonsai soil absorbs excess water during rain or watering, then slowly releases this excess water as the soil dries acting in effect like a time release capsule. Use as a blend with your soil mix or by itself.

Miniature Ceramic Dog Figurine Christmas Tree Decoration By Giuseppe Armani
- Sale Price: $9.95
Miniature Ceramic Dog Figurine Christmas Tree Decoration with hanging loop.

Ceramic Bonsai Pot with Attached Tray - Cascade 5.5x5.5
- Sale Price: $14.50
Ceramic bonsai pot, cscade, square, color mustard
User Comments:
There are currently 0 comments.