Ficus Bonsai Tree 3 Tree Forest Group- Variegated (ficus benjamina)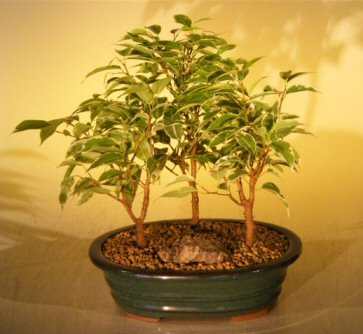 Sale Price: $52.95

From Bonsai Boy of NY
View User Comments
Ficus Bonsai Tree 3 Tree Forest Group- Variegated (ficus benjamina)
The Ficus Benjamina is an indoor tropical bonsai tree that is easy to care for. The Benjamina has evergreen leaves with a splash of yellow which is called "variegated". The leaf size can be reduced by trimming. Trimming will also keep the trees tight and compact as will direct sun. Three tree forest group. Excellent for indoors.
You may also be interested in these related Bonsai Trees and supplies:

Superthrive Vitamins and Hormones - 4 oz.
- Sale Price: $14.95
Saves plants from waiting to make many life-process complexes, carbon, hydrogen and oxygen. 50 vitamins and hormones in one for immediate use by plants. Add one drop to each gallon of fertilizer mixture and apply when watering. Use also after re-potting.

Oval Mica Bonsai Pot - 14 x 9 3/4 x 4
- Sale Price: $45.95
Mica pots from Korea are made of 80% mica, 15% polyethylene and 5% graphite. Mica has a natural ability to stabilize the temperature of the soil in the pots. This promotes healthy root activity during the growing season and protects during the cold periods. These pots are durable and will withstand the elements for years. The pot has a wide lip and is dark brown in color.
Ceramic Bonsai Pot - Rectangle 6x4.5x2.25
- Sale Price: $7.95
Imported, glazed Chinese pot, green. Rectangle with indented corners.

Ficus Retusa Bonsai Tree Curved Trunk & Tiered branching style (ficus retusa)
- Sale Price: $295.00
Also known as Banyan Fig. The Retusa has small, dark green leaves which are more oval than the Benjamina. Grey to reddish bark dotted with small horizontal flecks, similar to tiger-like markings. Has a heavy trunk with and tiered branching. The Retusa is among the most tolerant, versatile and trouble-free bonsai trees for indoor use.

Humidity/Drip Bonsai Tray/Bonsai Pot (Oval Black) 17.x12.0x2.0
- Sale Price: $19.95
Can be used as a humidity/drip tray or an inexpensive bonsai pot for a large forest group or Penjing. Eight knockout holes in the bottom of the tray for drainage.
User Comments:
There are currently 0 comments.