Ficus Bonsai Tree 3 Tree Forest Group- Variegated (ficus benjamina)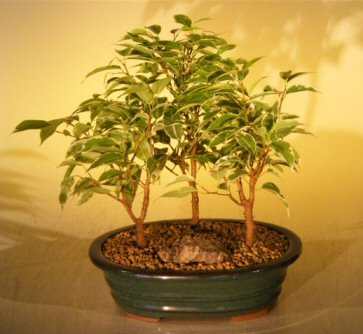 Sale Price: $52.95

From Bonsai Boy of NY
View User Comments
Ficus Bonsai Tree 3 Tree Forest Group- Variegated (ficus benjamina)
The Ficus Benjamina is an indoor tropical bonsai tree that is easy to care for. The Benjamina has evergreen leaves with a splash of yellow which is called "variegated". The leaf size can be reduced by trimming. Trimming will also keep the trees tight and compact as will direct sun. Three tree forest group. Excellent for indoors.
You may also be interested in these related Bonsai Trees and supplies:

Flowering Chinese Perfume Bonsai Tree (aglaia orodata)
- Sale Price: $44.95
This aromatic tree which is native to China is classified as near threatened. The Perfume tree is a rare species and a member of the mahogany family. The Perfume tree resembles the Orange Jasmine and has highly lemon scented (sometimes called Mock Lemon) very small yellow blooms that can be enjoyed several times a year. Aglaia has many medicinal uses: orodine and ororinol obtained from this plant has cancer chemo preventative activity. Very easy to grow indoor bonsai tree.

Humidity/Drip Bonsai Tray 18.5x13.25x.5
- Sale Price: $24.95
A finishing, practical addition to your bonsai living sculpture. Not only do they visually enhance the placement of your tree, but humidity/drip trays make watering simple, provide essential humidity for your tree and protect furniture from stain and damage.

Single Point Root Rake
- Sale Price: $19.95
Used to separate small and medium sized capillary roots during transplanting and repotting. Has a single steel prong. Simple, yet a necessary tool for bonsai enthusiasts. 8" overall.

Ceramic Bonsai Pot Round Green Fluted
- Sale Price: $10.95
Glazed round green

Growing Bonsai Indoors By Brooklyn Botanical Gardens
- Sale Price: $14.95
Growing Bonsai Indoors is an introduction to beautiful tropical and subtropical bonsai that can thrive inside your home year-round. Tailored to the needs of first time bonsai growers, this hands-on guide explains step-by-step how to make indoor bonsai flourish. You'll find a thorough overview of the most common bonsai styles fully illustrated with color photos and line drawings, as well as advice on wiring and prunning from renowned experts. This handy guide also serves as a helpful reference for buying bonsai and connecting with other enthusiastics locally and around the world.
User Comments:
There are currently 0 comments.