Ficus Bonsai Tree 3 Tree Forest Group- Variegated (ficus benjamina)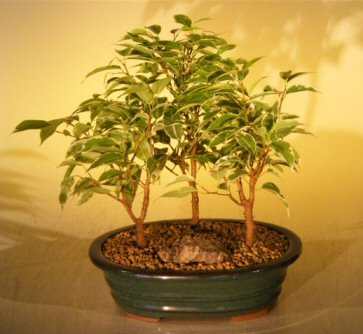 Sale Price: $52.95

From Bonsai Boy of NY
View User Comments
Ficus Bonsai Tree 3 Tree Forest Group- Variegated (ficus benjamina)
The Ficus Benjamina is an indoor tropical bonsai tree that is easy to care for. The Benjamina has evergreen leaves with a splash of yellow which is called "variegated". The leaf size can be reduced by trimming. Trimming will also keep the trees tight and compact as will direct sun. Three tree forest group. Excellent for indoors.
You may also be interested in these related Bonsai Trees and supplies:

Oriental Ficus Bonsai - 3 Tree Group (ficus benjamina 'orientalis')
- Sale Price: $52.95
Fig species which is native to South and Southeastern Asia. These evergreen trees are particularly good for bonsai training, as they produce sturdy trunks, good branching characteristics and shiny leaves. Great for indoors year round. The brighter the location, the more compact the growth. Three tree forest group, easy maintenance.

Flowering Princess Earrings Bonsai Tree - Large (dichrostachys cinerea)
- Sale Price: $79.95
A small semi-deciduous tropical tree native to South Africa. It is also known as Bell Mimosa or Chinese Lantern. The word 'dichrostachys' means '2 colored spike' and 'cinerea' refers to its greyish hairs. The delicate pink and yellow inflorescens resembles precious earrings hanging from a tree. The flower starts off pink and the next day it fades to white. Can produce blooms almost year round in full sun. The fruit and seeds that are produced are edible and the flowers can be a valuable source of honey. Wonderful flowering bonsai for indoors.

Ficus Midnight Bonsai Tree- Medium (benjamina 'midnight')
- Sale Price: $29.95
New miniature cultivar of the popular Ficus Benjamina with smaller leaves and very dark green color and compact growth habit. Great for indoors in lower or higher lighting conditions.

Ficus Retusa Bonsai Tree Curved Trunk & Tiered branching style (ficus retusa)
- Sale Price: $295.00
Also known as Banyan Fig. The Retusa has small, dark green leaves which are more oval than the Benjamina. Grey to reddish bark dotted with small horizontal flecks, similar to tiger-like markings. Has a heavy trunk with and tiered branching. The Retusa is among the most tolerant, versatile and trouble-free bonsai trees for indoor use.

Ceramic Orchid Pot with Attached Tray 10.0x5.0x5.0 Tall Mustard Color Window Box Style
- Sale Price: $54.00
Ceramic Orchid Pot With Matching Tray
User Comments:
There are currently 0 comments.