Dwarf Black Olive (bucinda spinosa)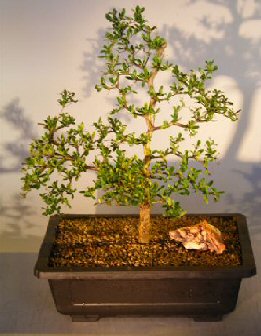 Sale Price: $175.00

From Bonsai Boy of NY
View User Comments
Dwarf Black Olive (bucinda spinosa)
Native to the Caribbean and parts of Florida. Not the edible olive that we all know and love, but does produce a small, black seed capsule. An evergreen tree with a smooth trunk and oval canopy. The lush, dark bluish-green, leathery leaves can be over 2" long and are clustered at the branch tips, sometimes mixed with 1" long spines found along the branches. Loves the sun and heat. Do not expose to temps below 40F.
You may also be interested in these related Bonsai Trees and supplies:

Japanese Black Pine Bonsai Tree - Curved Trunk (pinus thunbergii)
- Sale Price: $74.95
Stiff dark green needles (3"-5" long) occur in pairs. Large, grayish-white terminal buds help distinguish it from other pines. Much sought after in bonsai and takes many years to achieve the look of a superior specimen bonsai. Hardy. Likes sun. Keep outdoors.

Ginseng Ficus Bonsai Tree - Small (Ficus Retusa)
- Sale Price: $29.95
Also known as Banyan Fig and Taiwan Ficus. The Retusa has small dark green leaves which alternate up the stem and which are more oval than the Benjamina. Grey to reddish bark dotted with small horizontal flecks, similar to tiger-like markings. All have heavy trunks with exposed aerial roots. Among the most tolerant, versatile and trouble-free bonsai trees for indoor use.

Flowering Mount Fuji Bonsai Tree Water/Land Container - Small (serissa foetida)
- Sale Price: $39.95
The water pot is divided into two sections. On one side we plant the flowering Mount Fuji Serissa which blooms easily and is great for indoors. On the other side of the planting is a well. We include a fisherman figurine, along with a fishing pole, line and ceramic fish.

Trim a Tree Holiday Bow
- Sale Price: $1.00
Great festive decoration for any bonsai tree

Flowering Parrot's Beak- Medium (gmelina philippensis)
- Sale Price: $49.95
Parrot's Beak, or Gmelina (pronounced with a silent G) has leaves which vary from oval to ivy or "duck foot" shape. It has exotic flowers occasionally which are comprised of yellow blooms which emerge at the end of a tube-like structure of overlapping bracts. The flower resembles a Parrot's Beak, hence the name. The flower pod has one seed. The fruit is fleshy, smooth, yellow, pear-shaped and about 2 centimeters long. Parrot's Peak is native to the Philipine Islands, India and Southeast Asia. Cold tolerant to lower 30s.
User Comments:
There are currently 0 comments.