Dwarf Black Olive (bucinda spinosa)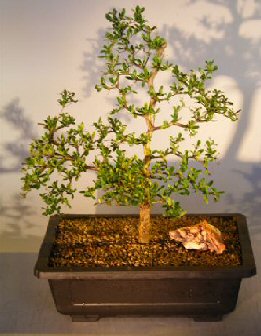 Sale Price: $175.00

From Bonsai Boy of NY
View User Comments
Dwarf Black Olive (bucinda spinosa)
Native to the Caribbean and parts of Florida. Not the edible olive that we all know and love, but does produce a small, black seed capsule. An evergreen tree with a smooth trunk and oval canopy. The lush, dark bluish-green, leathery leaves can be over 2" long and are clustered at the branch tips, sometimes mixed with 1" long spines found along the branches. Loves the sun and heat. Do not expose to temps below 40F.
You may also be interested in these related Bonsai Trees and supplies:

Flowering Mimosa Bonsai Tree - Large (leucaena glauca)
- Sale Price: $59.95
The Mimosa loves sun and is drought tolerant. It folds its leaves under water stress, preventing water loss and under severe conditions it will defoliate until the rains return. The Mimosa can bloom throughout the year. Flowers are white with a white base, looking like white pom poms and are self-fertilizing. It takes about four months after flowering for the long flattened pods to mature and liberate seeds. The Mimosa seeds have a hard coat which requires scarification (abrasion) and germination is usually 6-10 days after sowing. Fun tree and easy indoor care.

Ceramic Bonsai Pot - Professional Series Oval 10.0 x 8.0 x 4.0
- Sale Price: $23.95
Imported ceramic bonsai pot

Willow Leaf Ficus Bonsai Tree - Shohin Style (ficus nerifolia/salicafolia)
- Sale Price: $175.00
What is Shohin bonsai? "Shohin" is the Japanese word for "a tiny thing." The basic rules of Shohin bonsai suggest that it should not be higher than approximately 25cm (that's 10 inches) when measured from the rim of the pot to the top of the tree. Most experts believe that you must be able to hold the Shohin bonsai in one hand and it must express the beauty of a large tree in miniature. The exact measure of the height of the tree is then less important. Also known as Mexicana Ficus. Elongated, light green leaves have a striking resemblance to the popular Weeping Willow tree. This tree does particularly well indoors in low, moderate or higher lighting conditions.

Professional Bonsai Soil 20 lb. Bag (10 Qts.)
- Sale Price: $39.95
Those who practice the fine art of bonsai have known for years the very special qualities that professional bonsail soil imparts to soil mixes. Its unique properties help provide free passage of air and water to root systems while significantly reducing soil compaction. This unique bonsai soil is produced by expanding and vitrifying selected shale in a rotary kiln at temperatures in excess of 2000 degrees F. This process makes the soil sterile and environmentally inert. It is a natural non-toxic, highly absorbent ceramic granule with a generally neutral PH. It is dimensionally stable and will not degrade like other amending products. There is no need for it to be re-applied year after year. A good bonsai soil profile is approximately 25% water, 25% air and 50% solid particulate matter. However, when soils are compacted, an imbalance occurs. Solid particles are pressed together, and water and air are squeezed out. With less pore space, soils become too dense for the movement of air, water and nutrients, and the favorable environment for the beneficial microbial activity necessary in a healthy growing medium, is lost. Our professional bonsai soil absorbs excess water during rain or watering, then slowly releases this excess water as the soil dries acting in effect like a time release capsule. Use as a blend with your soil mix or by itself.

Mini Decorative Watering Can
- Sale Price: $6.95
Adorable decorative mini watering can. Great gift-giving accessory for your bonsai tree. Imported
User Comments:
There are currently 0 comments.