Decorative Rock - Imported Acid Etched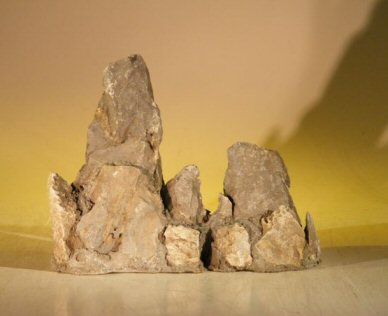 Sale Price: $24.95

From Bonsai Boy of NY
View User Comments
Decorative Rock - Imported Acid Etched
Imported acid etched decorative landscaping rock
You may also be interested in these related Bonsai Trees and supplies:

Hawaiian Umbrella Bonsai Tree Banyan Style (arboricola schfflera)
- Sale Price: $175.00
This is the tree that we recommend if you are inexperienced with bonsai or you do not have a green thumb. In our opinion it is one of the easiest bonsai trees to care for and is a very beautiful "trouble-free" evergreen. If you don't know which tree to purchase as a gift for someone, this is the tree to select. This versatile tree is great for home, office, dorm or anywhere and does well in low to high lighting conditions. Our tree features tiny umbrella shaped leaves forming a dense green variegated canopy. Very popular and easy indoor care. Our Hawaiian Umbrella bonsai tree with banyan roots is truly a work of art by mother nature. Anyone would be proud to own this impressive conversation piece.

Copper Beech Bonsai Tree (fagus sylvatica 'purpurea')
- Sale Price: $89.95
Also known as Purple Beech. A great colorful addition to any bonsai collection. Has leaves that are copper in color which turn to a bronzy green in the summer heat. Has smooth grey bark. Leaves turn red/brown in fall and hang on the tree well into winter. Deciduous. Keep outdoors.

Flowering Holly (ilex)
- Sale Price: $49.95
The holly has alternate glossy leaves, typically with a spiny toothed or serrated leaf margin. It has four small petal flowers from greenish to white in color. Pollination is done by bees or other insects. The fruit is a berry, usually red to brown but rarely green or yellow which ripens in winter. Offers a pleasant color contrast with the color of the foliage. The fruits are a very important food source for birds and other wild life and in winter the Ilex is an important source of food and shelter.

Flowering Lemon Bonsai Tree (meyer lemon)
- Sale Price: $89.95
Sweet California Meyer Lemon. This tree always has something going on, either it is in fruit or flower and sometimes both. It thrives in nearly every climate, as long as it is brought indoors before freezing. Evergreen leaves with wonderful fragrant large size fruit. Spectacular array of purplish-white flowers with a wonderful aromatic scent. The Meyer Lemon is a cross between a true lemon and a Mandarin orange. The fruit is yellow and rounder than a true lemon and is sweeter and has a less acidic flavor than the common Lisbon or Eureka grocery store varieties. Great for indoors.

Bonsai Wire Cutters Made in China
- Sale Price: $24.95
These wire cutters are designed specifically for removing bonsai wire. Although enthusiasts new to bonsai sometimes substitute standard wire cutters, these are designed with a rounded head to prevent damage to the trunk and branches when removing wires. The jaws of the cutters cut the wire symmetrically and cleanly. Highly recommended for bonsai enthusiast. 8" overall length. $19.95 each.
User Comments:
There are currently 0 comments.