Ceramic Sandstone Pagoda Lantern - 4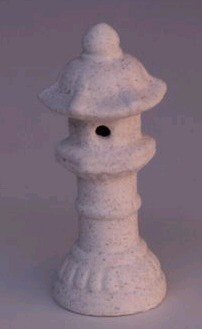 Sale Price: $15.95

From Bonsai Boy of NY
View User Comments
Ceramic Sandstone Pagoda Lantern - 4
Imported Ceramic Japanese Sandstone Pagoda. Terrific at the base of, or along side, your bonsai tree to create a picturesque landscape or simply display on a shelf.
You may also be interested in these related Bonsai Trees and supplies:

Bonsai Display Table - 11.5 x 9.5 x 3.5
- Sale Price: $79.95
Beautifully hand-crafted Pecky Cypress display table. The pecky effect is a kind of sculpturing process which has been produced by nature. Once the tree has been harvested, the causative agent within the tree completely disappears leaving only the characteristic pocketing it formerly created. The beautiful grains of knotty effects will serve to enhance the beauty of your favorite bonsai tree.

Flowering Ligustrum Bonsai Tree (ligustrum lucidum)
- Sale Price: $275.00
Native to China and Eastern Asia and is now grown ornamentally in the United States. The berry of the Ligustrum has been used as a "yin" tonic in traditional Chinese medicine for a wide range of conditions, including premature aging, ringing in the ears and chronic toxicity. Trained in the traditional bonsai style with a curved trunk and tiered branches. White puffy blooms are attractive during late spring and early summer. Good for indoors.

Jump Start Grow Light System - 2 FT. High Output T5
- Sale Price: $62.95
Ideal for Bonsai, as well as seedlings, cuttings, flowers and house plants. Grow seedlings faster with 15-20% more lumens. Simple toggle clamp for easy lamp height adjustment Super easy assembly. Internal reflective finish directs more light to plants. 24" interior width. When germinating seeds, the fixture can be kept just inches away from the seeds (or humidity dome). After sprouting, keep the fixture 3-6" away from the plant canopy.

Ficus Retusa Bonsai Tree Curved Trunk & Tiered branching style (ficus retusa)
- Sale Price: $295.00
Also known as Banyan Fig. The Retusa has small, dark green leaves which are more oval than the Benjamina. Grey to reddish bark dotted with small horizontal flecks, similar to tiger-like markings. Has a heavy trunk with and tiered branching. The Retusa is among the most tolerant, versatile and trouble-free bonsai trees for indoor use.

Sago Palm Bonsai Tree (cycas revoluta)
- Sale Price: $125.00
The Sago Palm is a long-lived exotic palm that tolerates neglect but thrives with attention. Adapts to indirect light or full sun and has a wide temperature range from 15 to 120 degrees F. A slow growth rate allows indoor specimens to remain in the same container indefinately. Treat as a cactus -- water when almost dry and seldom fertilize. Great indoor bonsai.
User Comments:
There are currently 0 comments.