Ceramic Panda Figurines- Set of 5 Various Poses 1 x 1.5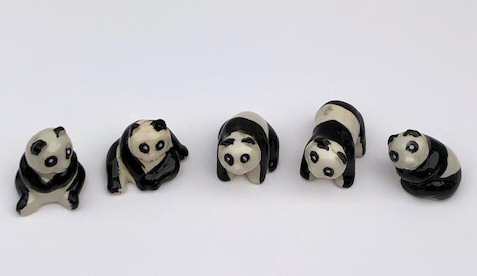 Sale Price: $14.95

From Bonsai Boy of NY
View User Comments
Ceramic Panda Figurines- Set of 5 Various Poses 1 x 1.5
Imported ceramic Panda figurines. Black and White.
You may also be interested in these related Bonsai Trees and supplies:

Flowering Surinam Cherry Bonsai Tree (eugenia uniflora)
- Sale Price: $89.95
The Surinam Cherry is a sub-tropical evergreen with dark green ovate leaves formed in pairs. Striking red exfoliating (flaking) bark. In spring, may bear small white flowers which is followed by red edible fruit. Popular landscape tree in the southern part of the USA. Ours is trained in the broom style. Does very well indoors.

Starter Kit - Juniper Procumbens Make Your Own Bonsai Tree
- Sale Price: $24.95
Make your own Bonsai Tree. Everything you need to create your own bonsai tree. Kit includes the following:

Hawaiian Umbrella Bonsai Tree - Small - Gold - In Lava Rock (arboricola schefflera 'luseanne' variegata)
- Sale Price: $39.95
Real Hawaiian lava rock is hand selected to provide a happy home for your Schefflera Luseanne. Schefflera Luseanne are very special, patented trees that stay smaller and more compact than ordinary varieties. This variegated form creates a fuller look due to the crinkle in the variegated leaves. Place in a bright window or on a countertop. Keep some water in a humidity/drip tray/saucer and fertilize monthly at 1/2 the manufacturers recommended strength with a water soluable fertilizer found in your local garden shop or on our website. With reasonable care your volcano bonsai should last for years.
Tray sold separately at $6.95.

Water/Stone Landscape Scene Ceramic Bonsai Pot - 8 x 6
- Sale Price: $24.95
The rocks selected for this unusual arrangement are imported and washed in acid, making them strikingly unique. We then cut and cement the rocks to one side of the pot, leaving an ample well between them to hold water. A ceramic bridge is cemented to the rocks. A pagoda figurine is also added and cemented to the stone. To complete the scene, we cement a miniature, glazed, mud figurine fisherman overlooking the water and holding a fishing pole with miniature fish (included). A large area on the opposite side of the pot is provided for your planting, and decorative pebbles are furnished to spread over the new soil. The entire landscape is arranged in an attractive, glazed, imported ceramic container.

Rapeseed Cake Organic Fertilizer
- Sale Price: $10.95
Our rapeseed Maruta brand is manufactured in Japan and contains no animal products, including bonemeal. Nearly impossible to overfeed, as it is long-lasting. Replace every 50 days in summer and 100 days in winter. Each cake is approximately 1.0" x 1.0" in diameter. Apply 1 or 2 cakes for average size container. Will not deteriorate. Free shipping with tree order.
User Comments:
There are currently 0 comments.