Ceramic Bonsai Pot - Rectangle Unglazed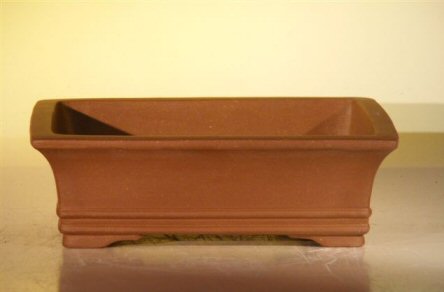 Sale Price: $14.50

From Bonsai Boy of NY
View User Comments
Ceramic Bonsai Pot - Rectangle Unglazed
Rectangle, unglazed, ceramic bonsai pot. Measures 8"x6.125"x2.5"
You may also be interested in these related Bonsai Trees and supplies:

Water/Stone Landscape Scene Ceramic Bonsai Pot - 8 x 6
- Sale Price: $24.95
The rocks selected for this unusual arrangement are imported and washed in acid, making them strikingly unique. We then cut and cement the rocks to one side of the pot, leaving an ample well between them to hold water. A ceramic bridge is cemented to the rocks. A pagoda figurine is also added and cemented to the stone. To complete the scene, we cement a miniature, glazed, mud figurine fisherman overlooking the water and holding a fishing pole with miniature fish (included). A large area on the opposite side of the pot is provided for your planting, and decorative pebbles are furnished to spread over the new soil. The entire landscape is arranged in an attractive, glazed, imported ceramic container.

Ginseng Ficus & Ficus Orientalis Bonsai Trees - Stone Landscape Forest Group (ficus retusa & ficus orientalis)
- Sale Price: $250.00
Also known as Banyan Fig and Taiwan Ficus. The Retusa has small dark green leaves that alternate up the stem and which are more oval than the Benjamina. Grey to reddish bark dotted with small horizontal flecks, similar to tiger-like markings. Has a heavy exposed bulbous roots. The Ficus Orientalis has excellent branching characteristics and is also great for indoors. Among the most tolerant, versatile and trouble-free bonsai trees for indoor use.

Ceramic Bonsai Pot - Land/Water with Attached Matching Tray 8.25 x 6.0 x 3.5
- Sale Price: $13.50
Imported, glazed Chinese ceramic land/water pot. Oval, beige color with attached matching tray

Norfolk Island Pine Bonsai Tree - Three (3) Tree Forest Group (araucaria heterophila)
- Sale Price: $64.95
Open and airy conifer (cone bearing) with light green foliage turning darker with age. One of the best know trees from the South Pacific. Will tolerate warm temperatures and does not even object to dryness, although it does not like glaring sunshine. Decorates well for any holiday or season. Very easy indoor care.

Ceramic Bonsai Pot With Attached Humidity/Drip Tray - Professional Series Oval 6.37 x 4.75 x 2.625
- Sale Price: $12.00
Imported ceramic bonsai pot.
User Comments:
There are currently 0 comments.