Ceramic Bonsai Pot - Oval Unglazed 12x9.625x3.5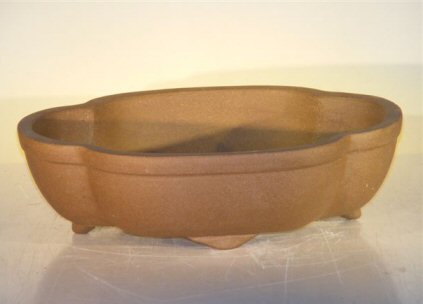 Sale Price: $27.50

From Bonsai Boy of NY
View User Comments
Ceramic Bonsai Pot - Oval Unglazed 12x9.625x3.5
Oval unglazed ceramic bonsai pot
You may also be interested in these related Bonsai Trees and supplies:

Ceramic Bonsai Pot - Oval 14.0x11.0x4.0
- Sale Price: $72.00
Imported glazed Chinese pot, Parisian red color, oval

Norfolk Island Pine Bonsai Tree Water/Land Container - Medium (Araucaria Heterophila)
- Sale Price: $49.95
Open and airy conifer (cone bearing) with light green foliage turning darker with age. One of the best known trees from the South Pacific. Will tolerate warm temperatures and does not even object to dryness, although it does not like glaring sunshine. Decorates well for any holiday or season. Forest tree group - each 5 years old. Very easy indoor care. Our tree is planted in a water pot which has a well on one side that holds water. We include a fisherman figure along with a fishing pole and ceramic fish. The entire landscape is arranged in an attractive, glazed, imported ceramic container.

Flowering Mount Fuji Serissa Bonsai Tree - Medium Stone Landscape Scene (serissa foetida)
- Sale Price: $59.95
The rocks selected for this unusual arrangement are imported and washed in acid, making them strikingly unique. We then cut and cement the rocks to one side of the pot and create a well on the opposite side. A ceramic bridge is cemented to the rocks on either side. A pagoda figurine is also added and cemented to the stone located above the bridge. To complete the scene, we cement a miniature, glazed, mud figurine fisherman overlooking the well, holding a fishing pole and fish. On the opposite side of the restful scene, we have selected for planting, the flowering Mount Fuji Serissa bonsai which blooms easily. An excellent indoor bonsai tree for home or office.

Liquid Chelated Iron 1 oz. concentrate
- Sale Price: $5.95
Liquid chelated iron concentrate. Cures and prevents iron deficiencies in the soil while reversing or reducing the pale green or yellow discoloration associated with chlorosis. Provides iron in a form that is immediately available to vegetation, remaining in the soil for extended feedings. Our liquid chelated iron is economical and safe. Dilute 1/2 teaspoon per quart of water and apply monthly.

Monterey - Single Trunk-Preserved Bonsai Tree (Preserved - Not a living tree)
- Sale Price: $55.95
Please allow up to 14 days for delivery.
User Comments:
There are currently 0 comments.