Ceramic Bonsai Pot - Oval 20.25x16.5x5.0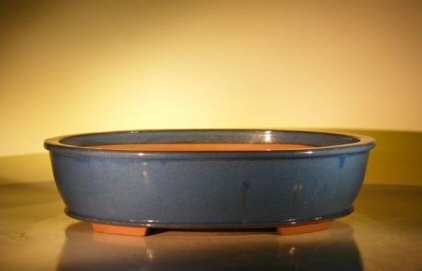 Sale Price: $142.75

From Bonsai Boy of NY
View User Comments
Ceramic Bonsai Pot - Oval 20.25x16.5x5.0
Imported glazed Chinese pot, blue color, oval
You may also be interested in these related Bonsai Trees and supplies:

Baby Jade Bonsai Tree (Portulacaria Afra)
- Sale Price: $195.00
This succulent bonsai, also known as the "Elephant Bush", is native to South Africa and has pale green leaves that are almost round and about one-third the size of the common Jade plant. The fleshy trunk, branches, and leaves are used to store water. An excellent bonsai tree for indoors.

Flowering Crabapple (Malus Sargenti)
- Sale Price: $89.95
Flowering crabapples are one of the best flowering trees for bonsai. They produce beautiful white, fragrant flowers covering the entire tree in early spring before the foliage appears. The foliage is really small and lobed. Little green pomes (apples) appear in summer, derived from the enlargement of the entire flower receptacle which becomes fleshy. The fruit ripens to all different colors in the fall when the foliage begins to turn to shades of yellow, orange and red. Winter brings a nice twiggy skeletal outline punctuated by the fruit which persists throughout the winter. They are easy to grow and quite pest and disease resistant. Deciduous. Keep outdoors. Available 12 months a year. Will have no foliage during winter months.

Dwarf Flowering Bottlebrush - Little John (Callistemon Citrinus Little John)
- Sale Price: $59.95
This Dwarf Flowering Bottlebrush is a very slow grower that has red, fragrant, showy flowers. It blooms repeatedly during the spring and summer and will bloom into winter in warmer climates. Hummingbirds flock to its flowers. The Little John foliage is dark green and evergreen. Great indoor bonsai.

Podocarpus Bonsai Tree Coiled Trunk (podocarpus macrophyllus)
- Sale Price: $150.00
Aka Buddhist Pine or Chinese Yew. The Podocarpus is a dense evergreen with pointed, leathery, dark green leaves arranged on stiff, symmetrical branches. The tree which is unisexual, has male flowers in cones and female flowers composed of cylindrical thickened scales. The fruits are edible, pendiculate, fleshy and brightly colored. New floiage appears light green in color that turns darker with age. Our tree is trained in the traditional bonsai style with a curved trunk and tiered branches. Grows very well albeit slowly indoors.

Fukien Tea Flowering Bonsai Tree Curved Trunk - Large(ehretia microphylla)
- Sale Price: $89.95
Native to the Fujan province of China. This tree has small white flowers that can bloom at any time. The foliage is dark green and small in size. The flowers turn into red berries that turn darker with age. Trained in the traditional cloud layer style. Loves the heat and does great indoors.
User Comments:
There are currently 0 comments.