Ceramic Bonsai Pot - Land/Water with Attached Matching Tray 12.0 x 9.25 x 4.25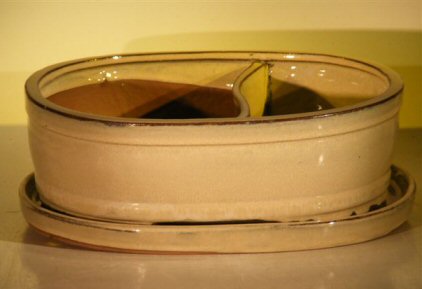 Sale Price: $28.75

From Bonsai Boy of NY
View User Comments
Ceramic Bonsai Pot - Land/Water with Attached Matching Tray 12.0 x 9.25 x 4.25
Imported, glazed Chinese ceramic land/water pot. Oval, beige color with attached matching tray
You may also be interested in these related Bonsai Trees and supplies:

Water/Stone Landscape Scene Ceramic Bonsai Pot - 8 x 6
- Sale Price: $24.95
The rocks selected for this unusual arrangement are imported and washed in acid, making them strikingly unique. We then cut and cement the rocks to one side of the pot, leaving an ample well between them to hold water. A ceramic bridge is cemented to the rocks. A pagoda figurine is also added and cemented to the stone. To complete the scene, we cement a miniature, glazed, mud figurine fisherman overlooking the water and holding a fishing pole with miniature fish (included). A large area on the opposite side of the pot is provided for your planting, and decorative pebbles are furnished to spread over the new soil. The entire landscape is arranged in an attractive, glazed, imported ceramic container.

Pre Bonsai Shimpaku Bonsai Tree Bonsai Tree - Medium (shimpaku itoigawa)
- Sale Price: $29.95

Baby Jade Bonsai Tree (Portulacaria Afra)
- Sale Price: $195.00
This succulent bonsai, also known as the "Elephant Bush", is native to South Africa and has pale green leaves that are almost round and about one-third the size of the common Jade plant. The fleshy trunk, branches, and leaves are used to store water. An excellent bonsai tree for indoors.

Flowering Mimosa Bonsai Tree - Medium (leucaena glauca)
- Sale Price: $49.95
The Mimosa loves sun and is drought tolerant. It folds its leaves under water stress, preventing water loss and under severe conditions it will defoliate until the rains return. The Mimosa can bloom throughout the year. Flowers are white with a white base, looking like white pom poms and are self-fertilizing. It takes about four months after flowering for the long flattened pods to mature and liberate seeds. The Mimosa seeds have a hard coat which requires scarification (abrasion) and germination is usually 6-10 days after sowing. Fun tree and easy indoor care.

Ficus Benjamina Bonsai Tree Large - Double Planting (exotica)
- Sale Price: $160.00
Full evergreen canopy with extensive dark green foliage. Does great indoors.
User Comments:
There are currently 0 comments.