Ceramic Bonsai Pot 10.0x6.0 Tall Floral Design - Brown/Yellow Color Hexagon Shape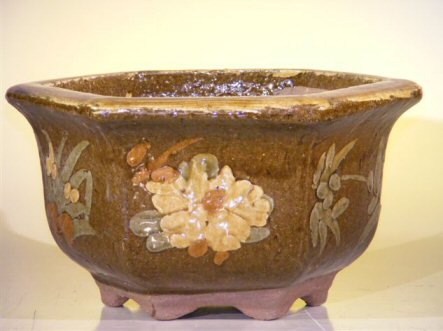 Sale Price: $36.00

From Bonsai Boy of NY
View User Comments
Ceramic Bonsai Pot 10.0x6.0 Tall Floral Design - Brown/Yellow Color Hexagon Shape
Ceramic Bonsai Pot
10.0"x6.0" Tall
Floral Design - Brown/Yellow Color
Hexagon Shape
You may also be interested in these related Bonsai Trees and supplies:

Limequat Bonsai Tree (limequat eustis)
- Sale Price: $89.95
Eustis is a hybrid between West Indian Lime and Marumi Kumquat which flowers and fruits readily on its own. It is an easy to maintain small lime tree requiring less heat than other lime varieties. The Limequat is a small tree with an open habit and heavy crops of small, oval, light colored yellow fruit. The flesh is juicy and acidic and has the same aromatic flavor as the lime with about 8 seeds per fruit. Eustis makes an attractive ornamental and the fruit can be used as a lemon or lime substitute. Great for indoors.

Ceramic Bonsai Pot Green Oval 14.5x11.0x3.5
- Sale Price: $29.95
Imported glazed ceramic pot

Open Terrarium Indoor Foliage Arrangement
- Sale Price: $49.95
A terrarium is a small, sometimes enclosed, glass or plastic container in which living plants are kept for display. Generally they are miniature, self-sufficient environments. Closed terrariums recycle moisture with high efficiency, but they are more prone to disease than are open terrariums. Open terrariums should be lightly watered or heavily misted every few days and will do very well on a windowsill or on a table near a window.

Bonsai Video Instructional Guide - VHS Format
- Sale Price: $19.95
Produced by the Brooklyn Botanical Garden. Excellent instructional guide for the individual. Watch repeatedly to learn general care, culture, shaping and pruning in exacting detail.

Flowering Podocarpus Bonsai Tree - Styled (podocarpus macrophyllus)
- Sale Price: $59.95
AKA Buddhist Pine or Chinese Yew. Podocarpus is a dense evergreen with pointed, leathery, dark green leaves arranged on stiff, symmetrical branches. The tree which is unisexual, has male flowers in cones and female flowers composed of cylindrical thickened scales. The fruits often edible, are pedunculate, fleshy and brightly colored. New foliage comes in a light green color that turns darker with age. Our trees are trained in the traditional bonsai style. Grows very well albeit slowly indoors.
User Comments:
There are currently 0 comments.