Cast Iron Hanging Garden Pot Decoration - Dragonfly 3.25 Wide x 2.25 High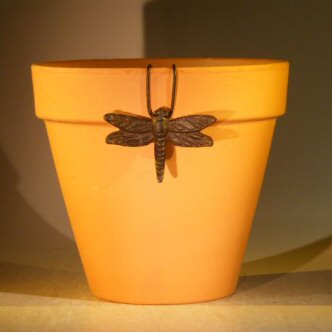 Sale Price: $11.95

From Bonsai Boy of NY
View User Comments
Cast Iron Hanging Garden Pot Decoration - Dragonfly 3.25 Wide x 2.25 High
Cast Iron Hanging Garden Pot Decoration - Dragonfly
You may also be interested in these related Bonsai Trees and supplies:

Miniature Chic Figurine Light Green
- Sale Price: $9.95
Miniature Chic Figurine

Flowering Parrot's Beak - Extra Large (gmelina philippensis)
- Sale Price: $125.00
Parrot's Beak, or Gmelina (pronounced with a silent G) has leaves which vary from oval to ivy or "duck foot" shape. It has exotic flowers occasionally which are comprised of yellow blooms which emerge at the end of a tube-like structure of overlapping bracts. The flower resembles a Parrot's Beak, hence the name. The flower pod has one seed. The fruit is fleshy, smooth, yellow, pear-shaped and about 2 centimeters long. Parrot's Peak is native to the Philipine Islands, India and Southeast Asia. Cold tolerant to lower 30s.

Flowering Mount Fuji Serissa - Medium (serissa foetida)
- Sale Price: $59.95
Beautiful white, star-shaped, miniature flowers. This sub-tropical variegated evergreen, which is imported from Japan, can bloom profusely with delicate white miniature flowers. Excellent for beginners.

Portable Pourer
- Sale Price: $9.95
Turn any used plastic soda bottle (16 oz up to 2 liters) into a watering can! This is a new, improved version of a similar item we've carried. The unique design keeps the water pouring smoothly, and the handle is designed for comfortable use. Simply screw onto any size plastic soda bottle, 16, 20, or 24 oz and 2 liter bottles.

Hawaiian Umbrella Bonsai Tree Banyan Style (arboricola schfflera)
- Sale Price: $195.00
This is the tree that we recommend if you are inexperienced with bonsai or you do not have a green thumb. In our opinion it is one of the easiest bonsai trees to care for and is a very beautiful "trouble-free" evergreen. If you don't know which tree to purchase as a gift for someone, this is the tree to select. This versatile tree is great for home, office, dorm or anywhere and does well indoors. Our tree features tiny umbrella shaped leaves forming a dense green canopy. Very popular and easy indoor care. Our Hawaiian Umbrella Tree bonsai with banyan roots is truly a magnificent work of art by mother nature. Anyone would be proud to own this impressive conversation piece.
User Comments:
There are currently 0 comments.