Cast Iron Hanging Garden Pot Decoration - Dragonfly 3.25 Wide x 2.25 High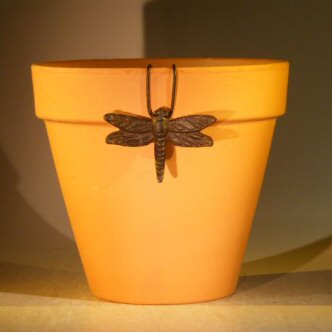 Sale Price: $11.95

From Bonsai Boy of NY
View User Comments
Cast Iron Hanging Garden Pot Decoration - Dragonfly 3.25 Wide x 2.25 High
Cast Iron Hanging Garden Pot Decoration - Dragonfly
You may also be interested in these related Bonsai Trees and supplies:

Sago Palm Bonsai Tree (cycas revoluta)
- Sale Price: $125.00
The Sago Palm is a long-lived exotic palm that tolerates neglect but thrives with attention. Adapts to indirect light or full sun and has a wide temperature range from 15 to 120 degrees F. A slow growth rate allows indoor specimens to remain in the same container indefinately. Treat as a cactus -- water when almost dry and seldom fertilize. Great indoor bonsai.

Flowering Dwarf Yaupon Holly (ilex vomitoria 'Schelling's Dwarf')
- Sale Price: $250.00
The dwarf evergreen holly formed in a compact mound has small dark green leaves and tiny red berries. No male pollinator is needed for fruit production. Does very well indoors with low maintainence.

Flowering Water Jasmine Bonsai Tree - Extra Large (wrightia religiosa)
- Sale Price: $125.00
The Water Jasmine, wrightia religiosa, is the material most often used for bonsai in Malaysia. It is widely planted as a hedge tree in southeast Asia countries because the wrightia is twiggy and is used for medicinal purposes. The Water Jasmine loves the heat and prefers as much direct sun as possible. It can be semi-deciduous during winter if not kept above 65 degrees Fahrenheit. The flowers are white, pendulous, and fill a room with a very lovely fragrance. Long, green bean-like seed pods follow flowering if insects pollinate the flowers.

Shimpaku Juniper Bonsai Tree - Trained (juniper chinensis)
- Sale Price: $89.95
The Japanese Shimpaku Juniper is a needled evergreen tolerant of a wide variety of soils and is dioecious which means that there are separate male and female plants. Shimpaku is a naturally irregular vase shaped Juniper which we have trained in the traditional bonsai style that has a shaped trunk and deadwood in the form of Shari. The Shimpaku has attractive year round foliage and its dark green needles are soft to the touch. Very popular and easy to care for bonsai.

Bonsai Watering Wand
- Sale Price: $35.95
Chrome plated fine spray hose nozzle which is great for watering bonsai trees, seedlings and young plants.
User Comments:
There are currently 0 comments.