Buddha's Ear (alocacia cuculata)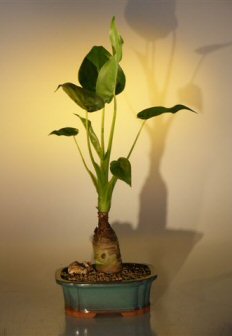 Sale Price: $26.95

From Bonsai Boy of NY
View User Comments
Buddha's Ear (alocacia cuculata)
Also known as Buddha's First Lily, Chinese Taro or Buddha's Hand . A small elephant ear with thick, shiny, green heart shaped leaves that resemble elf hats each with curly-cue, twisted tips and upturn leaf margins. Does very well indoors (45F.-85F. temperatures) in low or medium lighting conditions.
You may also be interested in these related Bonsai Trees and supplies:

Oriental Ficus Bonsai Tree Banyan Style (benjamina 'orientalis')
- Sale Price: $150.00
Our unique specimen bonsai features extensive banyan roots growing down into the soil. This impressive broadleaf, trouble-free evergreen has smaller leaves than the Benjamina. Very easy indoor maintenance.

Ceramic Humidity/Drip Bonsai Tray - Parisian Red Rectangle 8.0 x 6.0 x 0.5 Tall
- Sale Price: $11.95
A finishing, practical addition to your bonsai living sculpture. Not only do they visually enhance the placement of your tree, but humidity drip trays make watering simple, provide essential humidity for your tree and protect furniture from stain and damage.

Oriental Ficus Bonsai Tree Coiled Trunk with Banyan Roots (benjamina 'orientalis')
- Sale Price: $125.00
Fig species which is native to south and southeast Asia. This evergreen tree is particularly good for bonsai training as they produce sturdy trunks, good branching characteristics and shiny leaves. Best to trim the leaves in early summer as the new leaves that subsequently grow will be smaller than the ones removed. Ours is trained in the coiled trunk style. Great for indoors.

Flowering Sweet Acacia Bonsai Tree (acacia farnesiana)
- Sale Price: $49.95
This small tree which is native to tropical America has very small feathery, finely divided leaflets on compound leaves and has a soft medium green color. The slightly rough stems are a rich chocolate brown or grey having sharp short multiple thorns. The small, yellow, puff-like flowers are very fragrant and appear in clusters in late winter and also sporadically after each new flush of growth, providing nearly year round bloom. The persistent fruits have a glossy coat and contain seeds which are cherished by birds and other wildlife. Great for indoors.

Cast Iron Hanging Garden Pot Decoration - Dragonfly 3.25 Wide x 2.25 High
- Sale Price: $11.95
Cast Iron Hanging Garden Pot Decoration - Dragonfly
User Comments:
There are currently 0 comments.