Bonsai Tweezers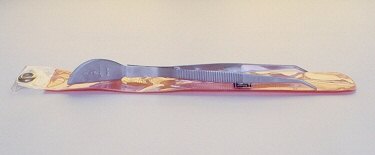 Sale Price: $13.95

From Bonsai Boy of NY
View User Comments
Bonsai Tweezers
Use to remove dead leaves, insects, weeds and other fine debris around the base of bonsai, the symmetrically-shaped spatula is well suited for tamping soil and the semi-sharp edge works well for scraping soil and loosening soil around the edges of containers.
You may also be interested in these related Bonsai Trees and supplies:

Shimpaku Bonsai Tree - Medium (shimpaku itoigawa)
- Sale Price: $45.95
Itoigawa is a highly prized cultivar of Shimpaku from Japan. It grows tighter and fuller and is the most compact of all the Shimpaku Junipers.

Japanese Kingsville Boxwood Bonsai Tree (buxus microphylla compacta)
- Sale Price: $325.00
Native to Japan the Kingsville Boxwood is an extremely slow growing tree. It has the smallest leaf of all Boxwoods which is why it is sought after for bonsai. The Kingsville Boxwood is an evergreen tree with light green leaves and has excellent branching characteristics. A great indoor bonsai tree recommended by the Brooklyn Botanical Gardens.

Juniper Bonsai Tree (juniper procumbens nana)
- Sale Price: $89.95
This dwarf Juniper from Japan is the most popular evergreen in the U.S.A. When we think of a traditional bonsai and what it should look like, we think of a "Juniper Procumbens Nana." It is very hardy, long-lived and tolerates many adverse conditions. Trained in the traditional curved style, this is an excellent tree for the beginner.

Flowering Chinese Perfume Bonsai Tree (aglaia orodata)
- Sale Price: $44.95
This aromatic tree which is native to China is classified as near threatened. The Perfume tree is a rare species and a member of the mahogany family. The Perfume tree resembles the Orange Jasmine and has highly lemon scented (sometimes called Mock Lemon) very small yellow blooms that can be enjoyed several times a year. Aglaia has many medicinal uses: orodine and ororinol obtained from this plant has cancer chemo preventative activity. Very easy to grow indoor bonsai tree.

Artificial Japanese Boxwood Bonsai Tree
- Sale Price: $19.95
Artificial Japanese Boxwood bonsai tree with 49 leaves
User Comments:
There are currently 0 comments.