Bonsai Pro Fertilizer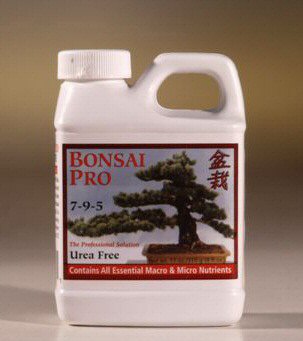 Sale Price: $16.95

From Bonsai Boy of NY
View User Comments
Bonsai Pro Fertilizer
Bonsai Pro concentrate fertilizer provides the right balance of nutrients for healthy growth. It does not cause undesirable salt buildup in your growing medium. It is a professional formulation containing all essential macro and micro nutrient minerals for healthy bonsai. All elements are in one simple solution. Just like nature, with bonsai pro you feed your bonsai with each watering. Use with all container plants.
Net weight 11 oz. (8 fl. oz.)
You may also be interested in these related Bonsai Trees and supplies:

Juniper Bonsai Tree - Trained (juniper procumbens nana)
- Sale Price: $89.95
This dwarf Juniper from Japan is the most popular evergreen in the U.S. When we think of a traditional bonsai and what it should look like we think of a "Juniper Procumbens Nana". They are very hardy, long-lived and tolerate many adverse conditions. Trained style.

Shimpaku Bonsai Tree In Lava Rock - Large (juniper chinensis)
- Sale Price: $69.95
Also known as the Chinese Juniper. This needled evergreen is tolerant of a wide variety of soils and is dioecious which means that there are separate male and female plants. Shimpaku is a naturally irregular vase shaped Juniper which we grow into a mound shape with a curved trunk. The Shimpaku has attractive year round foliage and its dark green needles are soft to the touch. Very popular and easy to care for bonsai.

Flowering Mimosa Bonsai Tree - Medium (leucaena glauca)
- Sale Price: $49.95
The Mimosa loves sun and is drought tolerant. It folds its leaves under water stress, preventing water loss and under severe conditions it will defoliate until the rains return. The Mimosa can bloom throughout the year. Flowers are white with a white base, looking like white pom poms and are self-fertilizing. It takes about four months after flowering for the long flattened pods to mature and liberate seeds. The Mimosa seeds have a hard coat which requires scarification (abrasion) and germination is usually 6-10 days after sowing. Fun tree and easy indoor care.

Ceramic Bonsai Pot - Rectangle 7.0 x 5.5 x 2.375
- Sale Price: $10.00
Imported ceramic bonsai pot

Ceramic Bonsai Pot - Rectangle Unglazed 8x6.125x2.5
- Sale Price: $14.50
Rectangle, unglazed, ceramic bonsai pot. Measures 8"x6.125"x2.5"
User Comments:
There are currently 0 comments.