Bonsai Display Table With Scroll Shaped Legs - 13.0 x 9.0 x 2.5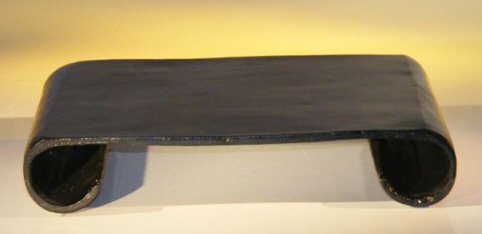 Sale Price: $39.95

From Bonsai Boy of NY
View User Comments
Bonsai Display Table With Scroll Shaped Legs - 13.0 x 9.0 x 2.5
Bonsai display stand to show off your best bonsai, features scroll shaped legs
You may also be interested in these related Bonsai Trees and supplies:

Trident Maple Seeds
- Sale Price: $4.95
Propagation instructions are included with each packet.

Buddha's Ear (alocacia cuculata)
- Sale Price: $26.95
Also known as Buddha's First Lily, Chinese Taro or Buddha's Hand . A small elephant ear with thick, shiny, green heart shaped leaves that resemble elf hats each with curly-cue, twisted tips and upturn leaf margins. Does very well indoors (45F.-85F. temperatures) in low or medium lighting conditions.

Japanese Birch Bonsai Tree Seeds
- Sale Price: $4.95
Propagation instructions are included with each packet.

Green Emerald Ficus Bonsai Tree-Root over Rock (ficus microcarpa)
- Sale Price: $99.95
Also known as Green Island Ficus. Has oval to roundish dark green shiny leaves. Easily forms rosetts at the end of its branches if kept trimmed. Branches and fruits well and easily develops aerial roots when kept humid. Different than other Ficus varieties in that the leaves are much thicker. Does well in lower, medium or high lighting conditions. Ours has exposed roots growing over a textured rock and down into the soil. One of our favorites. Very easy indoor maintenance.

Hawaiian Umbrella Bonsai Tree - Banyan Style - Large (arboricola schefflera)
- Sale Price: $69.95
This is the tree that we recommend if you are inexperienced with bonsai or you do not have a green thumb. In our opinion it is one of the easiest bonsai trees to care for and is a very beautiful trouble-free evergreen. If you don't know which tree to purchase as a gift for someone, this is the tree to select. This versatile tree is great for home, office, dorm or anywhere and does well in lower or higher lighting conditions. Our tree features tiny umbrella shaped leaves forming a dense green canopy. This impressive trouble-free evergreen has exposed banyan roots growing down into the soil. Very popular and easy to care for.
User Comments:
There are currently 0 comments.