Baby Jade Bonsai Tree Water/Land Container - Medium Portulacaria Afra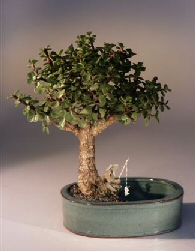 Sale Price: $49.95

From Bonsai Boy of NY
View User Comments
Baby Jade Bonsai Tree Water/Land Container - Medium Portulacaria Afra
This succulent bonsai, also known as the "Elephant Bush", is native to South Africa and has pale green leaves that are almost round and about one-third the size of the common Jade plant. The fleshy trunk, branches, and leaves are used to store water. Our tree is planted in a water pot which has a well on one side that holds water. We include a fisherman figure with a fishing pole and a ceramic fish. An excellent bonsai tree for the home or office.
You may also be interested in these related Bonsai Trees and supplies:

Hawaiian Umbrella Bonsai Tree - Coiled Trunk-Medium (Arboricola Schefflera)
- Sale Price: $39.95
This is the bonsai tree that we recommend if you are inexperienced with bonsai trees or you do not have a green thumb. In our opinion, it is one of the easiest bonsai trees to care for and is a very beautiful, trouble-free evergreen. If you don't know which tree to purchase as a gift for someone, this is the bonsai tree to select. This versatile bonsai tree is great for home, office, dorm or anywhere and does well in low to high lighting conditions. Our bonsai tree features tiny umbrella shaped leaves forming a dense green canopy. Very popular and easy indoor care.

Mistletoe Fig - Cascade Style (ficus diversifolia)
- Sale Price: $150.00
There are over 800 species of the Ficus genus. The Mistletoe Fig is one of the few Ficus that will fruit in the house. The leaves bear tiny brown spots and the pea sized fruits appear all year round and are inedible. The oval shaped leaves look just like mistletoe. Very slow grower. Excellent for indoors.

Flowering Mimosa Bonsai Tree - Medium (leucaena glauca)
- Sale Price: $49.95
The Mimosa loves sun and is drought tolerant. It folds its leaves under water stress, preventing water loss and under severe conditions it will defoliate until the rains return. The Mimosa can bloom throughout the year. Flowers are white with a white base, looking like white pom poms and are self-fertilizing. It takes about four months after flowering for the long flattened pods to mature and liberate seeds. The Mimosa seeds have a hard coat which requires scarification (abrasion) and germination is usually 6-10 days after sowing. Fun tree and easy indoor care.

Japanese Black Pine Bonsai Tree - Curved Trunk (pinus thunbergii)
- Sale Price: $74.95
Stiff dark green needles (3"-5" long) occur in pairs. Large, grayish-white terminal buds help distinguish it from other pines. Much sought after in bonsai and takes many years to achieve the look of a superior specimen bonsai. Hardy. Likes sun. Keep outdoors.

Ceramic Bonsai Pot - Rectangle 12.0 x 9.5 x 3.375
- Sale Price: $30.00
Imported ceramic bonsai pot
User Comments:
There are currently 0 comments.