Baby Jade Bonsai Tree Water/Land Container - Medium Portulacaria Afra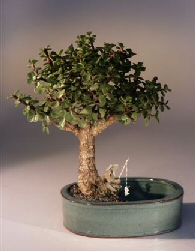 Sale Price: $49.95

From Bonsai Boy of NY
View User Comments
Baby Jade Bonsai Tree Water/Land Container - Medium Portulacaria Afra
This succulent bonsai, also known as the "Elephant Bush", is native to South Africa and has pale green leaves that are almost round and about one-third the size of the common Jade plant. The fleshy trunk, branches, and leaves are used to store water. Our tree is planted in a water pot which has a well on one side that holds water. We include a fisherman figure with a fishing pole and a ceramic fish. An excellent bonsai tree for the home or office.
You may also be interested in these related Bonsai Trees and supplies:

Ceramic Bonsai Pot - Rectangle Unglazed 10x7.825x3.125
- Sale Price: $21.50
Rectangle, unglazed, ceramic bonsai pot. Measures 10"x7.825"x3.125"

Mica Bonsai Pot - Rectangle 17.5x12.5x5
- Sale Price: $59.95
Mica pots from Korea are made of 80% mica, 15% polyethylene and 5% graphite. Mica has a natural ability to stabilize the temperature of the soil in the pots. This promotes healthy root activity during the growing season and protects during the cold periods. These pots are durable and will withstand the elements for years. The pot has a wide lip and is dark brown in color.

Miniature Ceramic Figurine: Three Men Sitting at a Table - Fine Detail
- Sale Price: $12.95
Miniature Ceramic Figurine: Three Men Sitting at a Table - Fine Detail

Hawaiian Umbrella Bonsai Tree - Coiled Trunk-Medium (Arboricola Schefflera)
- Sale Price: $39.95
This is the bonsai tree that we recommend if you are inexperienced with bonsai trees or you do not have a green thumb. In our opinion, it is one of the easiest bonsai trees to care for and is a very beautiful, trouble-free evergreen. If you don't know which tree to purchase as a gift for someone, this is the bonsai tree to select. This versatile bonsai tree is great for home, office, dorm or anywhere and does well in low to high lighting conditions. Our bonsai tree features tiny umbrella shaped leaves forming a dense green canopy. Very popular and easy indoor care.

Flowering Mount Fuji Serissa Bonsai Tree - Medium Stone Landscape Scene (serissa foetida)
- Sale Price: $59.95
The rocks selected for this unusual arrangement are imported and washed in acid, making them strikingly unique. We then cut and cement the rocks to one side of the pot and create a well on the opposite side. A ceramic bridge is cemented to the rocks on either side. A pagoda figurine is also added and cemented to the stone located above the bridge. To complete the scene, we cement a miniature, glazed, mud figurine fisherman overlooking the well, holding a fishing pole and fish. On the opposite side of the restful scene, we have selected for planting, the flowering Mount Fuji Serissa bonsai which blooms easily. An excellent indoor bonsai tree for home or office.
User Comments:
There are currently 0 comments.