Baby Jade Bonsai Tree (Portulacaria Afra)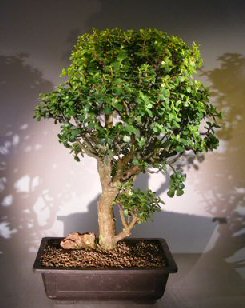 Sale Price: $195.00

From Bonsai Boy of NY
View User Comments
Baby Jade Bonsai Tree (Portulacaria Afra)
This succulent bonsai, also known as the "Elephant Bush", is native to South Africa and has pale green leaves that are almost round and about one-third the size of the common Jade plant. The fleshy trunk, branches, and leaves are used to store water. An excellent bonsai tree for indoors.
You may also be interested in these related Bonsai Trees and supplies:

Purple Orchid Select Purple Phalaenopsis
- Sale Price: $49.95
The single stem Phalaenopsis is perhaps the most popular of all orchids. It's beauty and elegance is unsurpassed and it's blooms last for up to 2 months or more. Our select orchid comes with up to 6 blooms. Sending orchids is possibly the most thoughtful way to brighten someone's day. Orchids are exotic and many people are honored to receive them. We include the name of the orchid and easy care instructions so the orchid will be appreciated for a very long time. This white Phalaenopsis is sure to be enjoyed by anyone who receives it. This is the perfect indoor flowering orchid for the beginner. Arrives in flower and bud.

Oriental Ficus Bonsai Tree Banyan Style (benjamina 'orientalis')
- Sale Price: $150.00
Our unique specimen bonsai features extensive banyan roots growing down into the soil. This impressive broadleaf, trouble-free evergreen has smaller leaves than the Benjamina. Very easy indoor maintenance.

Ceramic Bonsai Pot - Oval 7.0 x 5.5 x 2.375
- Sale Price: $10.00
Imported ceramic bonsai pot

Colorado Lava Rock Granules Bonsai Tree Soil Additive - 2 lbs. (1 Qt.)
- Sale Price: $6.95
Lava Rock is a naturally occurring volcanic cinder that has a porous structure which makes the material lightweight and highly moisture retentive. Incorporate into your bonsai soil mix to increase drainage (aeration). It will absorb up to 40% of its weight in water. Small lava rock (1/4 to 3/8 inch) is the best "sand" component around because it is "sharp" and has very irregular surfaces.

Ginseng Ficus Bonsai Tree - Small (Ficus Retusa)
- Sale Price: $29.95
Also known as Banyan Fig and Taiwan Ficus. The Retusa has small dark green leaves which alternate up the stem and which are more oval than the Benjamina. Grey to reddish bark dotted with small horizontal flecks, similar to tiger-like markings. All have heavy trunks with exposed aerial roots. Among the most tolerant, versatile and trouble-free bonsai trees for indoor use.
User Comments:
There are currently 0 comments.