B. Drainage Hole Covers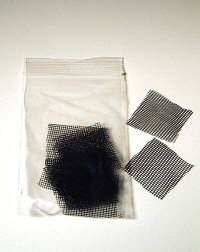 Sale Price: $2.95

From Bonsai Boy of NY
View User Comments
B. Drainage Hole Covers
B. Fiberglass drainage hole covers. Used to prevent soil from washing out of the container.
Approximately 1" square
Package of 12, 2.95
You may also be interested in these related Bonsai Trees and supplies:

Ponytail Palm - Large (Beaucamea Recurvata)
- Sale Price: $79.95
The most striking feature of the Ponytail Palm is the swollen base of the trunk. The texture of the trunk looks and feels scaly like the foot of an elephant and is also known as Elephants Foot. The extraordinary thickening of the trunk serves as a water reservoir against dry spells, allowing the tree to go up to four (4) weeks without water and causing no ill effects. Excellent in low or higher lighting conditions. The Ponytail is an excellent choice for home, office or anywhere.

Ceramic Bonsai Pot With Attached Humidity/Drip tray - Rectangle 10.75 x 8.5 x 4.125
- Sale Price: $24.00
Imported ceramic bonsai pot.

Mica Bonsai Pot - Oval 20.5x14.5x5.5
- Sale Price: $89.95
Mica pots imported from Korea are made of 80% mica, 15% polyethelene and 5% graphite. Mica has a natural ability to stabilize the temperature of the soil in the pots. This promotes healthy root activity during the growing season and protects during the cold periods. These pots are extremely durable and will withstand the elements for years. The pot has a wide lip and is dark brown in color.

Blue Moss Cypress Bonsai Tree Chamecyparis glauca minima)
- Sale Price: $29.95
Very attractive feathery blue foliage. Develops a nice trunk and forms natural broom style. May be shaped into pom-poms or tradition style if desired. Does well in a cool window during the winter. Imported from Japan. Easy care.

Ceramic Humidity/Drip Bonsai Tray - Aztec Orange Round 11.0x1.0
- Sale Price: $18.95
A finishing, practical addition to your bonsai living sculpture. Not only do they visually enhance the placement of your tree, but humidity drip trays make watering simple, provide essential humidity for your tree and protect furniture from stain and damage.
User Comments:
There are currently 0 comments.