Artificial Crabapple Bonsai Tree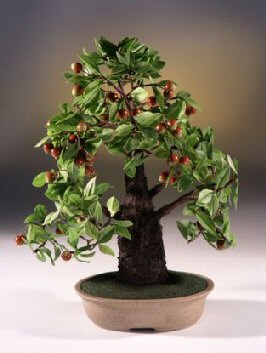 Sale Price: $59.95

From Bonsai Boy of NY
View User Comments
Artificial Crabapple Bonsai Tree
The fruit and branches of this artificial tree are created from luna clay, making them very flexible and, therefore, can be adjusted to your personal preferences or left as shown in the image. The hand-painted fruit is so life-like that you can almost taste the small apples. The trunk is curved and has a nice taper. This tree will retain its beauty for many years to come and can be cleaned with a slightly dampened cloth.
You may also be interested in these related Bonsai Trees and supplies:

Bonsai Tools - Entire Set Set Includes 6 Tools
- Sale Price: $112.70
Set Includes 6 Tools
A. - Satsuki Shears #1068.
Made in China. Long narrow body which is great for trimming buds and reaching deep with minimum disturbance to the surrounding foliage. It's finger rings are also well suited for smaller hands. 3/4" blades, 7" overall. $14.95 each.
Buy separately
.
B. - Concave Branch Cutter #1070.
(Beginner) This razor sharp tool is designed for cutting branches flush to the trunk. The resulting wound can then heal over quickly with very little scarring. Will keep a sharp edge indefinitely when properly used and cared for. The Concave Cutter is the single most important tool for bonsai use and for which there is no substitute. The 8" version is considered the basic size. 8" overall. Similar in appearance to above. Made in China. $23.95 each.
Buy separately
.
C. - Bonsai Wire Cutters #1071.
Made in China. These wire cutters are designed specifically for removing bonsai wire. Although enthusiasts new to bonsai sometimes substitute standard wire cutters, these are designed with a rounded head to prevent damage to the trunk and branches when removing wires. The jaws of the cutters cut the wire symmetrically and cleanly. Highly recommended for bonsai enthusiast. 8" overall. $19.95 each.
Buy separately
.
D. - Shears #1073. (Beginner) Made in China. Similar in appearance to above $19.95 each. Buy separately.
E. - Spherical Knob Cutter #1445.
Made in China. Designed to remove trunk knobs and roots. The head is shaped like a ball, hence the name "spherical." It produces a hollow, circular cut that heals quickly with a minimum of scarring. 7" long. $16.95.
Buy separately
.
F. - Single Point Root Rake #1075
Used to separate small and medium sized capillary roots during transplanting and repotting. Has a single steel prong. Simple, yet a necessary tool for bonsai enthusiasts. 8" overall. $16.95 each.
Buy separately
.

Ceramic Bonsai Pot With Attached Humidity/Drip tray - Professional Series Rectangle 10.75 x 8.5 x 4.125
- Sale Price: $24.00
Imported ceramic bonsai pot.

Monterey - Triple Trunk-Preserved Bonsai Tree (Preserved - Not a living tree)
- Sale Price: $279.00
Please allow up to 14 days for delivery.

Chinese Flowering White Serissa Bonsai Tree of a Thousand Stars Curved Trunk Style Extra Large (serissa japonica)
- Sale Price: $125.00
Tree of a Thousand Stars. The Japonica has somewhat elongated spoon shaped, shiny green leaves. It is a twiggy tree that grows tighter with shearing. This northern Chinese Serissa has small white trumpet shaped blossoms and is trained in the tiered layered style with an art shaped trunk.

Japanese Green Maple Bonsai Tree - Small (acer palmatum)
- Sale Price: $39.95
Hardy and easy to grow, this delicate Maple will look great on a patio, deck or garden. Provide sun in order to show best colors both in early spring and late into the season. Deciduous. Keep outdoors.
User Comments:
There are currently 0 comments.