Architectural Birdhouse/Feeder - Yellow (West Coast Dweller)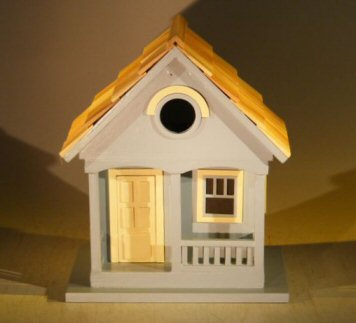 Sale Price: $29.95

From Bonsai Boy of NY
View User Comments
Architectural Birdhouse/Feeder - Yellow (West Coast Dweller)
Our Architectural Birdhouse is handcrafted of kiln-dried hardwood, exterior grade ply-board and western red cedar or pine shingles for the roof. The finish is a non-toxic, oil-based paint. Our birdhouse is intended for use with wildlife and, therefore, no pressure-treated wood or harmful chemicals have been applied. The cedar shingles will naturally patina to a silvery gray color with sun bleaching. Structure is built with aeration slats for good air circulation. Solid wood with resin detail.
You may also be interested in these related Bonsai Trees and supplies:

Ceramic Figurine - Mudman Fisherman 1.25x1.25x1.75
- Sale Price: $7.95
Mudman fisherman figurine. Very fine detail.

Oriental Ficus Coiled Bonsai Tree - Small (ficus benjamina 'orientalis')
- Sale Price: $39.95
Fig species which is native to South and South-East Asia. This evergreen tree is particularly good for bonsai training as they produce sturdy trunks, good branching charachteristics and shiny leaves. Best to trim in early summer as the new leaves that subsequently grow will be smaller than the ones removed. Ours is trained in the coiled trunk style. Great for indoors year-round, the brighter the location, the more compact the growth.

Ceramic Crane Figurine (Large) - 1 1/2
- Sale Price: $2.95
Ceramic Crane Figurine.

Flowering Water Jasmine Bonsai Tree - Extra Large (wrightia religiosa)
- Sale Price: $125.00
The Water Jasmine, wrightia religiosa, is the material most often used for bonsai in Malaysia. It is widely planted as a hedge tree in southeast Asia countries because the wrightia is twiggy and is used for medicinal purposes. The Water Jasmine loves the heat and prefers as much direct sun as possible. It can be semi-deciduous during winter if not kept above 65 degrees Fahrenheit. The flowers are white, pendulous, and fill a room with a very lovely fragrance. Long, green bean-like seed pods follow flowering if insects pollinate the flowers.

Norfolk Island Pine - Stone Landscape Scene
- Sale Price: $49.95
Open and airy conifer (cone bearing) with light green foliage turning darker with age. One of the best known trees from the South Pacific. Will tolerate warm temperatures and does not even object to dryness, although it does not like glaring sunshine. Decorates well for any holiday or season. Forest tree group - each 5 years old. Very easy indoor care. The rocks selected for this unusual arrangement are imported and washed in acid making them strikingly unique. We then cut and cement the rocks to one side of the pot, leaving an ample well between them to hold water. A ceramic bridge is cemented to the rocks on either side. A pagoda figurine is also added and cemented to the stone located above the bridge. To complete the scene, we cement a miniature, glazed, mud figurine fisherman overlooking the water holding a fishing pole and fish. On the opposite side of this restful scene, we have selected for planting, the ever popular Norfolk Island Pine. The entire landscape is arranged in an attractive, glazed, imported ceramic container.
User Comments:
There are currently 0 comments.