7 Round Humidity/Drip Bonsai Tray - Heavy Duty Plastic - Medium 7.0x1.0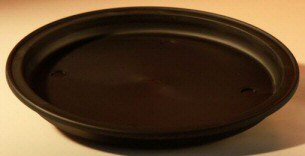 Sale Price: $7.95

From Bonsai Boy of NY
View User Comments
7 Round Humidity/Drip Bonsai Tray - Heavy Duty Plastic - Medium 7.0x1.0
A finishing, practical addition to your bonsai living sculpture. Not only do they visually enhance the placement of your tree, but humidity/drip trays make watering simple, provide essential humidity/drip for your tree and protect furniture from stain and damage.
You may also be interested in these related Bonsai Trees and supplies:

Ceramic Bonsai Pot - Professional Series Rectangle 10.0 x 8.0 x 4.0
- Sale Price: $23.95
Imported ceramic bonsai pot

Ceramic Bonsai Pot - Oval Unglazed
- Sale Price: $10.75
Oval, unglazed, ceramic bonsai pot. Measures 6.5"x4.5"x2.125"

Ficus Retusa Bonsai Tree Curved Trunk & Tiered Branching Style (ficus retusa)
- Sale Price: $295.00
Also known as Banyan Fig. The Retusa has small, dark green leaves which are more oval than the Benjamina. Grey to reddish bark dotted with small horizontal flecks, similar to tiger-like markings. Has a heavy trunk with and tiered branching. The Retusa is among the most tolerant, versatile and trouble-free bonsai trees for indoor use.

Shimpaku Juniper Bonsai Tree - Trained (juniper chinensis)
- Sale Price: $89.95
The Japanese Shimpaku Juniper is a needled evergreen tolerant of a wide variety of soils and is dioecious which means that there are separate male and female plants. Shimpaku is a naturally irregular vase shaped Juniper which we have trained in the traditional bonsai style that has a shaped trunk and deadwood in the form of Shari. The Shimpaku has attractive year round foliage and its dark green needles are soft to the touch. Very popular and easy to care for bonsai.

Ceramic Bonsai Pot - Land/Water 8.0 x 6.5 x 3.25
- Sale Price: $10.95
Imported, glazed, ceramic land/water pot. Beige color.
User Comments:
There are currently 0 comments.