12 Round - Heavy Duty Plastic Round Humidity/Drip Bonsai Tray 12x1.0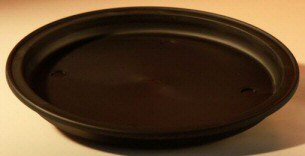 Sale Price: $17.95

From Bonsai Boy of NY
View User Comments
12 Round - Heavy Duty Plastic Round Humidity/Drip Bonsai Tray 12x1.0
A finishing, practical addition to your bonsai living sculpture. Not only do they visually enhance the placement of your tree, but humidity/drip trays make watering simple, provide essential humidity for your tree and protect furniture from stain and damage. Heavy duty plastic.
You may also be interested in these related Bonsai Trees and supplies:

Flowering Mimosa Bonsai Tree - Medium (leucaena glauca)
- Sale Price: $49.95
The Mimosa loves sun and is drought tolerant. It folds its leaves under water stress, preventing water loss and under severe conditions it will defoliate until the rains return. The Mimosa can bloom throughout the year. Flowers are white with a white base, looking like white pom poms and are self-fertilizing. It takes about four months after flowering for the long flattened pods to mature and liberate seeds. The Mimosa seeds have a hard coat which requires scarification (abrasion) and germination is usually 6-10 days after sowing. Fun tree and easy indoor care.

Ceramic Miniature Figurine Man Holding Drinking Cup
- Sale Price: $4.95
Ceramic Miniature Figurine Man Holding Drinking Cup.

Bonsai Tools - Entire Set Set Includes 6 Tools
- Sale Price: $112.70
Set Includes 6 Tools
A. - Satsuki Shears #1068.
Made in China. Long narrow body which is great for trimming buds and reaching deep with minimum disturbance to the surrounding foliage. It's finger rings are also well suited for smaller hands. 3/4" blades, 7" overall. $14.95 each.
Buy separately
.
B. - Concave Branch Cutter #1070.
(Beginner) This razor sharp tool is designed for cutting branches flush to the trunk. The resulting wound can then heal over quickly with very little scarring. Will keep a sharp edge indefinitely when properly used and cared for. The Concave Cutter is the single most important tool for bonsai use and for which there is no substitute. The 8" version is considered the basic size. 8" overall. Similar in appearance to above. Made in China. $23.95 each.
Buy separately
.
C. - Bonsai Wire Cutters #1071.
Made in China. These wire cutters are designed specifically for removing bonsai wire. Although enthusiasts new to bonsai sometimes substitute standard wire cutters, these are designed with a rounded head to prevent damage to the trunk and branches when removing wires. The jaws of the cutters cut the wire symmetrically and cleanly. Highly recommended for bonsai enthusiast. 8" overall. $19.95 each.
Buy separately
.
D. - Shears #1073. (Beginner) Made in China. Similar in appearance to above $19.95 each. Buy separately.
E. - Spherical Knob Cutter #1445.
Made in China. Designed to remove trunk knobs and roots. The head is shaped like a ball, hence the name "spherical." It produces a hollow, circular cut that heals quickly with a minimum of scarring. 7" long. $16.95.
Buy separately
.
F. - Single Point Root Rake #1075
Used to separate small and medium sized capillary roots during transplanting and repotting. Has a single steel prong. Simple, yet a necessary tool for bonsai enthusiasts. 8" overall. $16.95 each.
Buy separately
.

Slow Release Bonsai Fertilizer Pellets
- Sale Price: $6.95
Just sprinkle 1/4 teaspoon of these slow release bonsai fertilizer pellets on top of the soil. Each time you water, the tree will receive nutrients. One application will last 3-6 months.

Ceramic Bonsai Pot - Land/Water with Scalloped Edges 9.5 x 7.5 x 2.25
- Sale Price: $11.75
Imported, glazed Chinese ceramic land/water pot. Aztec orange color
User Comments:
There are currently 0 comments.